The Canadian MMA legend, Georges St-Pierre will be back inside the octagon in just over two weeks time.  GSP has not fought professionally in almost exactly 4 years, since his controversial split decision win over Johny Hendricks and subsequently stepping away from the limelight.  This November 4th, he's back to take on Michael Bisping for the UFC Middleweight belt at the most famous arena in sports, Madison Square Garden in New York City.
The return of GSP, and the UFC 217 card as a whole, will without a doubt be the biggest event the UFC has held this year and with the media, hype and anticipation comes new bettors looking to bet on GSP, Bisping, or other fighters on the card.  On this page I will make it very easy for anyone new to betting online to place a bet on UFC 217.  First I will look at the current "to win" odds for the GSP vs Bisping fight, and then provide a simple "how to guide" for getting your bets placed at a reputable Canadian sportsbook.
St-Pierre vs Bisping To Win Odds
The odds below have been taken from SportsInteraction.com, our top rated sportsbook for Canadians interested in betting online.  I will be using Sports Interaction for all of the odds, and the "how to guide" below.
| Sportsbook | Rating | Offers | Review | Visit |
| --- | --- | --- | --- | --- |
| | | See Website For Details | Review | Visit |
Here is a screenshot of the odds to win the fight from SportsInteraction.com:

The oddsmakers actually have this fight very close.  GSP is a slight favourite, but the oddsmakers really seem to think this fight could go either way.  A $100 bet on GSP wins $80, while a $100 bet on Bisping wins $95.  Check out our betting odds info page if you don't understand how to read the odds.
As we get closer to the fight more betting options will be added such as total rounds, method of victory, etc.  Check out our MMA betting section to learn more about these other UFC bets.
My Pick: I'm personally very high on GSP to win this fight and I think 1.80 is great value.  GSP has been adamant that he wants to face Bisping ever since he won the Middleweight title.  This tells me GSP is fully confident he will beat Bisping and add to his legacy by winning a belt at the higher weight class.  I do not think GSP would risk his legacy unless he was extremely confident in his ability to win.  The guy hasn't lost in ten years for goodness sake.
How To Bet On GSP vs Bisping – 3 Step Guide
Follow this simple 3 step guide to get your bets placed on the upcoming St-Pierre vs Bisping fight.  This guide is meant for Canadians.
#1. Open an Online Sportsbook Account
First you will need to open a betting account.  As I mentioned above, our top rated betting site is SportsInteraction.com.
Sports Interaction is solely focused on their Canadian customers and even had GSP as a company spokesman in 2016.  Sports Interaction is completely geared towards Canadians and this shows through in their product.
Click here to open your account at SportsInteraction.com.
#2. Make Your Deposit
Sports Interaction accepts Visa, MasterCard, iDebit, InstaDebit, Entropay and more.  They have a ton of deposit options available to Canadians.  If you have any issues contact customer support and they will walk you through the process.
#3. Place Your UFC Bets
To find the GSP vs Bisping betting lines at SportsInteraction.com, click on 'Sports' in the top navigation bar and then select 'MMA' followed by 'Mixed Martial Arts'.  This will bring up all of the upcoming MMA fights that you can bet on at SIA.  Scroll down until you find the GSP vs Bisping fight.  It will look like the screenshot I posted above.
Click on either St Pierre or Bisping to begin placing your bet.  Your selection will show up in the 'Bet Card' on the right side of your screen.  Here's an example of what it would look like if you bet $200 on GSP at the current odds: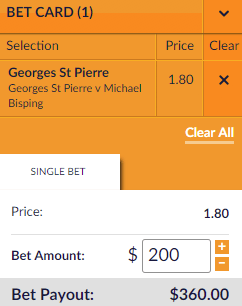 If everything looks good and you're seeing the payout that you expected based on your wager amount then go ahead and click the 'Place Bet!' button below to confirm and place your bet!  That's it, you just placed a bet on the GSP fight.  Now enjoy the action on November 4th with something on the line.
I think that's it.  Ready to bet?  Click here to visit SportsInteraction.com.
Bisping • GSP • How To Bet • UFC 217 • UFC betting • UFC picks