Sports betting in Canada has grown significantly over the past several years and this trend should continue as betting becomes more main stream here in Canada.  The odds are now talked about in the sports media and often take on a story of their own for big events, which brings attention to the sports betting industry and also takes away the outdated taboo surrounding sports betting as a whole.
On this page I will recommend three terrific online betting sites that are reputable, popular and growing here in Canada. I will also outline a three step guide to get started betting on sports online here in Canada at our #1 recommended betting site. Finally I will touch on some of more popular sports to bet on in the country and direct you to our dedicated pages with information on how to bet on each specific sport.
Best Sportsbooks for Canadians
These are the best three sportsbooks for betting on sports from Canada.  I've limited the sportsbooks I recommend here at HowToBet.ca in order to only steer you towards the most popular and trusted sportsbooks that have shown a commitment to building their presence in Canada and providing a great service to Canadian sports bettors.
All three of our recommended betting sites are licensed by iGaming Ontario to operate in the regulated Ontario gaming market, while also operating in the rest of Canada.
Check out the reviews for an in depth look at each sportsbook with sections on the betting options, promotions, banking options and customer service.
I recommend joining all 3 of the above sites.  The most important tip I can give anyone wanting to be a profitable sports bettor is to ensure you get the best possible odds on your placed bets.  The above three sportsbooks will often have different odds on the same event, so by having an account with each site you can compare odds and make sure to get the highest return on your wager.
3 Step Guide To Betting On Sports
Follow this simple three step guide to start betting on sports online.
Step 1. Open an Online Betting Account
You will need an online sportsbook account to place sports bets online. SportsInteraction.com is our top rated betting site for Canadians. They are solely focused on the Canadian marketplace and this results in a sportsbook that is catered towards Canadians, including the betting options, deposits/withdrawals and customer service. Here's our full review of Sports Interaction.
Click here to visit SportsInteraction.com, then select 'Open Account' on the exclusive HowToBet.ca landing page, and complete the sign up form.
Step 2. Deposits
As I mentioned above Sports Interaction goes above and beyond to provide the best possible service to Canadian customers.  This shows through in their wide variety of easy to use deposit and withdrawal options, which include Interac, Visa, MasterCard, iDebit and paysafecard.  If you have any trouble depositing or withdrawing simply contact SIA customer service and they will help you out.
Step 3. Place Your Sports Bets
You should now have money online, which means you're ready to start placing your sports bets.
Click on 'Sports' in the top navigation bar on the Sports Interaction website to head over to the sportsbook section.  You will see all of the sports available in the left sidebar.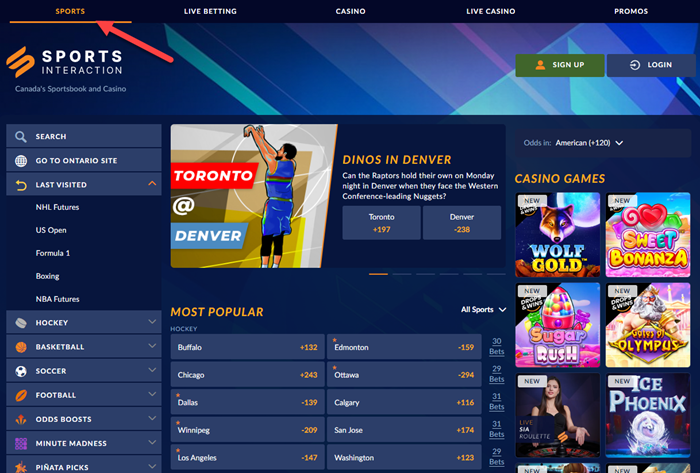 After selecting the sport, the betting options will be displayed with the corresponding odds.
Top Sports To Bet On In Canada
Each of our sport specific pages includes breakdowns and examples of the most popular bets on the sport, as well as a recommended betting site for that particular sport and also a three step guide to start betting.
The Blue Jays have really captured the imagination of the country over the past few years and this has resulted in a lot more baseball betting here in Canada. On this page I recommend a baseball betting site and also explain the money line, run line and over/under betting options on a baseball game.
The Raptors have brought attention to basketball north of the border and with young talented Canadians joining the NBA the popularity of basketball here in Canada is trending upwards.  On our basketball page I will recommend 3 sites for betting on basketball, outline the 3 main bet offerings on a basketball game and provide a 3 step guide to getting your first basketball bet placed online.
Boxing has had a resurgence over the past few years with some massive fights such as Usyk vs Joshua, GGG vs Canelo and of course the Tyson Fury vs Deontay Wilder trilogy bringing the sport back into the main stream.  On our boxing page I will recommend my favourite sportsbook for betting on boxing and also breakdown and provide examples of money line, over/under and fight outcome boxing wagers.
Cricket is a massive global sport that is more popular in Canada than many realize. The Indian Premier League is a popular league that has seen increasing betting action and viewership in Canada each year. The Cricket World Cup and T20 World Cup's are also popular international competitions that are followed here in Canada. On our cricket page I will recommend my top rated sportsbook for betting on Cricket from Canada and provide examples of the most common bets made on cricket matches.
Football is, and always will be, one of the most popular sports to bet on in North America. Up here in Canada the NFL is still the primary focus, but the CFL is also a great league that has a lot of loyal followers. Whichever league you enjoy following the bets are the same. On our football page I will break down the point spread, money line and over/under betting options for a football game, and also provide my recommended betting site for football betting.
Golf might be my favourite sport to bet on.  The four day sweat and potential for a big payday if you correctly predict a tournament winner makes golf betting great entertainment value for a bettor.  On the golf page I've provided examples for tournament winner, head to head and group betting, as well as provided a straight forward three step guide to bet on golf from Canada.
Hockey is Canada's game. It's the sport the majority of Canadians take the most pride in, pay the most attention to and are the most invested in. This complete immersion in the sport of hockey results in a lot of hockey betting up here in Canada. On the hockey page I've provided examples for the popular money line, puck line, over/under and regulation time bets, as well as provided a simple 3 step guide to get started betting on hockey at our top rated sportsbook.
Horse racing and betting are a match made in heaven. You really can't have one without the other. Betting is a huge part of horse racing culture and races like the Kentucky Derby or the Pegasus World Cup still bring in massive betting handles each year. On the horse racing page I outline the most common bets you can place on a horse race and provide a simple 3 step guide to betting on a horse race at our top rated sportsbook.
There's something about MMA that really brings out the bettor in people.  I think it's the buildup, hype and time to forge a serious opinion on a fight that really drives betting in MMA.  On the MMA page I outline the various bets you can make on a fight and also provide a step by step guide to betting on MMA online at any of our top rated sportsbooks.
Soccer is the most popular sport worldwide and there are plenty of passionate soccer fans here in Canada who love to bet on matches. With 3 teams in the MLS, the Canadian Premier League starting out and the World Cup coming to Canada in 2026 it's an exciting time to be a Canadian soccer fan. On this soccer page I break down the most popular bets you can place on a soccer match and provide a simple guide you can follow to bet on soccer online.
With all of the young talent in Canadian tennis (Shapovalov, Andreescu, Fernandez, Auger-Aliassime) I'm expecting Canada to take another step forward in national coverage over the next decade.  It's an exciting time to be a tennis fan here in Canada and that should result in more interest and more bets.  On the tennis page I outline money line and set betting tennis wagers and provide my favourite sportsbook for tennis betting.