After seeming like it might drift out of popularity, boxing really reemerged over the past few years with some big fights catching the imagination of the general public.  Mayweather vs Pacquiao finally happening was great for the sport even though the fight was unremarkable and even Mayweather vs McGregor did it's part in bringing eyes back to boxing.  Other big fights such as Klitschko vs Joshua and Canelo vs GGG were also hyped up nicely in the media.  Boxing is here to stay and when big fights come along there is a ton of betting interest here in Canada.
On this page I will break down how to bet on boxing from right here in Canada.  I've outlined the best sportsbooks for Canadians below and also broken down the most popular types of boxing bets.  Further down the page you will find a 3 step guide to getting your first boxing bet placed if you're new to sports betting online and then at the bottom of the page you can see our recent boxing articles.
Where To Bet On Boxing In Canada
These are our three recommended sportsbooks for Canadian bettors.  Each of these sites is committed to the Canadian market and offers a great betting experience to Canadians.  The payments/withdrawals are quick and easy, bonuses are solid and the betting options as a whole are geared towards Canadian clients.
Click on the review page above for a more detailed look at the bonus, promotions, interface, banking options and customer service for each of the betting sites we recommend.
If you want to make a profit betting on sports then you should really have an account with all three of the sportsbooks above.  This allows you to compare odds across the different sportsbooks and place your bet where you will get the greatest return.  This is especially true for boxing.  Even the massive Conor vs Floyd fight had very different odds across the board. While I'm writing this in the week leading up to the GGG vs Canelo fight, Bet365 has odds of 2.30 for Canelo, while Betway has 2.25 and Sports Interaction 2.17.  On the flip side Sports Interaction has the best odds for GGG of the 3 sites at 1.66.  This goes to show that the betting sites will offer different odds event on massive fights and it's important to get the best return possible if you want to win long term.
Different Boxing Betting Options
Below I've outlined a few of the more common bets you can make on a boxing match and provided examples to show exactly what you are betting on in each case.
To Win Fight (Money Line)
This is the most basic type of boxing wager.  With the money line bet you are simply wagering on which boxer will have his arm raised at the end of the fight.
The sportsbook provides odds to each boxer based on their perceived chance of winning the match.  A bet on the underdog would obviously pay out more than a bet on the favourite.  Here's an example using GGG vs Canelo at SportsInteraction.com:
SIA has Gennady Golovkin as the favourite in this fight with a bet on GGG paying out at odds of 1.66.  For example a $100 bet on GGG would pay out $166 ($100 x 1.66).  On the flip side, Canelo is the underdog at odds of 2.17.  A $100 bet on Canelo would pay out $217 ($100 x 2.17) if he pulled off the small upset.
Fight Outcome (Method of Victory)
Another popular betting option for boxing, and one that I enjoy betting on personally, is the fight outcome, which is also known as method of victory.  With this bet you dive a little deeper into the fight and select how the fight will actual finish.  There are usually five outcomes five outcomes for this wager, with both fighters having the possibility of either winning via decision or KO/TKO, and also a draw being possible.  Here's the example from the GGG vs Canelo fight:
According to the odds the most likely outcome of the fight is Golovkin by KO, TKO or DQ at odds of 2.56.  A $100 bet on GGG to finish the fight would pay out $256 ($100 x 2.56).
Total Rounds
Another popular boxing bet is wagering on how long the fight will go.  In the GGG vs Canelo fight the over/under is set at 9.5 rounds at Sports Interaction.  That said, the over is a big favourite as you can see from the screenshot:
A bet on the fight going over 9.5 rounds would pay out at odds of 1.42, while a bet that the fight is finished by either fighter in under 9.5 rounds pays out at odds of 2.69.
If the fight goes past a 1:30 into the 9th round then the over would pay out, but if one of the fighters gets a finish prior to one minute and 30 seconds into the 9th round then bets on the under would win.
Three Step Guide – How To Bet
If you're new to betting online, follow this simple three step guide to get your first boxing bet placed at our top rated betting site for Canadians.
Step 1. Open An Online Betting Account
The first thing you'll need to do is open an account with an online sportsbook.  SportsInteraction.com is our #1 rated betting site for Canadians and they are the betting site we have used in all of the examples above.
Click here to visit SportsInteraction.com.  Then select 'Open Account' on the exclusive HowToBet.ca landing page at Sports Interaction and complete the sign up form to open your account.
Step 2. Deposit
Next it's time to make your first deposit.  Sports Interaction accepts both Visa and MasterCard, which are the most common deposit methods for Canadians, but they also offer a long list of other banking options and I'm confident you will find a method that suits your needs.
Step 3. Bet On Boxing
You're now ready to place your first boxing bet!
Once on the Sports Interaction website click on 'Boxing' in the left sidebar of the sportsbook section.  This will bring up all of the upcoming boxing fights that you can place bets on.  Here's what you should be looking at:
If you click on the "+4" that you see the right side arrow pointing at you will be able to find all of the other bets on a specific fight such as the total rounds and method of victory.
Recent Boxing Articles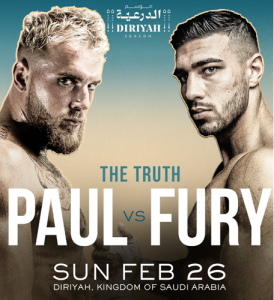 Jake Paul and Tommy Fury are scheduled to fight on February 26th at Diriyah Arena in Saudi Arabia. The event will be broadcast on pay-per-view by Showtime. The two boxers...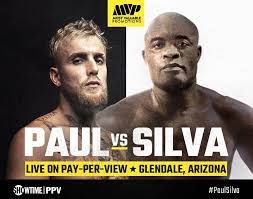 Jake Paul will return to the boxing ring to face UFC legend, Anderson Silva, in an 8 round fight in Glendale, Arizona this Saturday, October 29th. The fight will be...