NCAA Football doesn't have quite the cult following up here in Canada is it does south of the border, but I still know plenty of football fans who spend their Saturday's watching college football. There are a huge amount of games to choose between when placing bets and this allows you to really key in on games you are planning to watch or ones where you see real value.
On this page I will recommend an online betting site for Canadians looking to bet on NCAA Football, look at the outright odds for the 2024 National Championship and provide an example of the betting options and odds for a typical NCAA football game.  At the bottom of the page I've also included a simple 3 step guide that you can follow to get your bets placed on college football online from Canada.
Best NCAA Football Sportsbook for Canadians
| Sportsbook | Rating | Offers | Review | Visit |
| --- | --- | --- | --- | --- |
| | | See Website For Details | Review | Visit |
SportsInteraction.com is our top rated betting site for Canadians and that includes those looking to bet on college football online. Sports Interaction offers a wide variety of odds on every NCAA football game throughout the season, and their focus on the Canadian sports betting market allows for dedicated deposit/withdrawal options for Canadians and terrific customer service. Check out our full SIA review here.
I will be using odds and examples from Sports Interaction for the remainder of this page.
2024 National Championship Outright Odds
Here are the odds for the 2024 National Champion in Division 1 NCAA Football from Sports Interaction a couple weeks into the season (odds taken September 5th, 2023).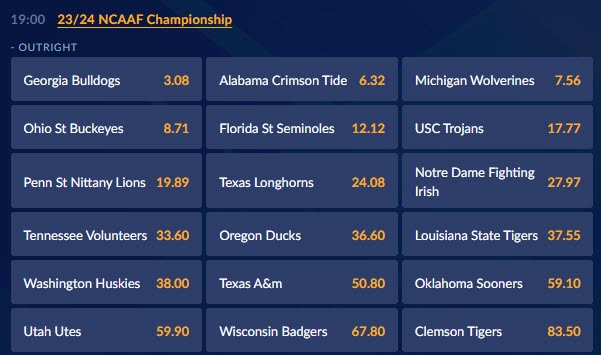 I've only included the 18 teams with 83/1 or better odds at this stage of the season.  These odds will change as the season progresses so be sure to check the up to date odds at Sports Interaction yourself.
To see the current odds you should visit SportsInteraction.com -> select 'Sports' from the top navigation bar -> open the 'Football' drop down menu -> select 'NCAAF Futures'.
College Football Game Odds
To see the odds for upcoming games at Sports Interaction go to the 'Sports' section, open the 'Football' drop down menu and select 'NCAAF Games'.  Here's an example of the game lines you will see, using an Alabama vs Texas game from last season:
Point Spread
In this example Alabama is a 20 point favorite to win the game against the Texas Longhorns.  A point spread bet on Alabama would payout if they won the game by 21 or more points.  A point spread bet on Texas would payout if they either won the game outright or lost by 19 or fewer points. If the Crimson Tide won by exactly 20 points the spread bets would push (be returned).
Money Line
You can also bet on the money line (winner of the game).  For example, a bet of $100 on Alabama money line would win $9 ($109 payout) if Bama wins the game. A $100 bet on Texas would payout $915 (win $815) if they pulled off the upset.
Total
The third popular bet you can make on a college football game is an over/under bet on the amount of points to be scored in the game. The total for the example game above is set at 64.5 points. Over bets would payout if 65+ points are scored in the game, while under bets would win if 64 or fewer points are scored by both teams combined.
Check out our football betting page for a further breakdown of the common bets you can make on a football game.
You can also click on the game header to see the entire list of betting options for the game at Sports Interaction.
Bet On NCAA Football From Canada – How To Guide
Follow these three steps to get your college football bets placed online within minutes.
Click the above link, select 'Open Account' and fill out the registration form to open an account.
Sports Interaction is entirely focused on the Canadian market and this shows through in their superior customer service, deposit/withdrawal options and promotions exclusive to Canadians.
Step 2. Deposit
Once logged into your account click on the 'Deposit' button in the top right corner. Select your preferred deposit method and follow the instructions to complete your deposit.
Sports Interaction accepts Visa, MasterCard, Interac, iDebit and paysafecard deposit methods.
Step 3. Place Your College Football Bets
You're now ready to bet.
Once on the Sports Interaction website, select 'Sports' from the top navigation bar and open the 'Football' drop down menu in the left sidebar. From here you should select 'NCAAF Games' for game odds or 'NCAAF Futures' for the outright markets.
Here's a screenshot showing where you can find the NCAA Football odds.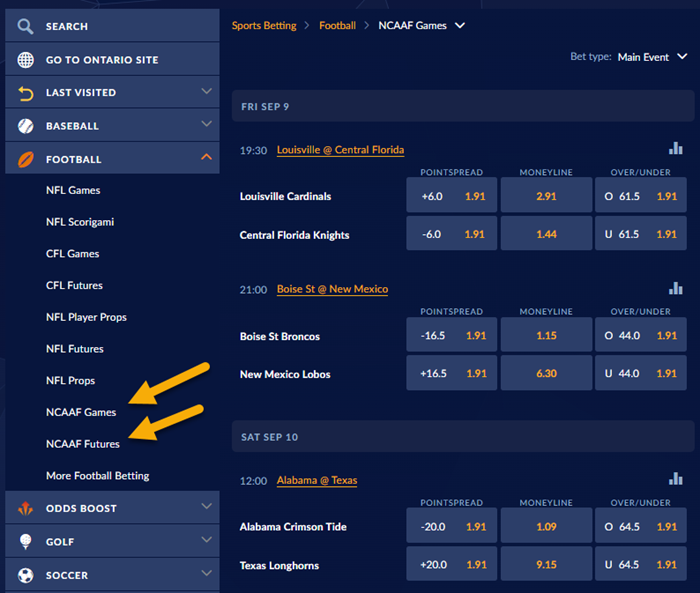 From here you should select the bet you want to make, enter the wager amount on you 'Bet Card' and click 'Place Bet' to lock in your wager.
That's it. Ready to bet? Click here to visit SportsInteraction.com.
College Football • College Football betting • NCAA Football • NCAA Football betting