KSI and Tommy Fury will headline the MF & DAZN: X Series 10 – The Prime Card event at Manchester Arena in England this Saturday, October 14th. The event also features Logan Paul vs Dillon Danis, and many other high profile influencer boxing fights, making this a landmark event for the influencer boxing series.
KSI returned to influencer boxing in the summer of 2022 and has won four fights over lesser opponents (although his recent fight with Joe Fournier was overturned to a no-contest due to the elbow knockout strike). KSI now feels he's ready to increase his level of competition in order to attempt to crown himself the top fighter in the influencer boxing scene. KSI will face Tommy Fury, who is coming off a split decision win over Jake Paul, with a win giving him bragging rights over Jake without actually having to fight him.
Tommy Fury did look good in the Jake Paul fight, but he still only won by a split decision and his previous fights over journeymen boxers or ex-MMA fighters turned influencer boxers (Anthony Taylor) have not been impressive. Fury is a significant step up in competition for KSI, but he's not exactly cemented himself as a top quality professional boxer at this point in his career. KSI is a live dog in this fight.
Below I will recommend a betting site for Canadians looking to wager on KSI vs Fury, look at the odds for the fight, and provide a simple 3 step guide you can follow to place your bets online.
Best Betting Site For KSI vs Tommy Fury
| Sportsbook | Rating | Offers | Review | Visit |
| --- | --- | --- | --- | --- |
| | | See Website For Details | Review | Visit |
Betway.com is our recommended betting site for Canadians looking to bet on the KSI vs Tommy Fury boxing match online. They are licensed by iGaming Ontario to operate in the regulated Ontario gaming market, while also serving the rest of Canada. They are taking bets on the KSI vs Fury fight at fair odds.
KSI vs Tommy Fury Betting Line
Here are the odds for the KSI vs Fury fight from Betway.com. The odds are accurate as of October 13th (the day before the fight), but could change as we approach the fight on Saturday.
Tommy Fury is the favourite with odds of 1.33 to win the fight. The odds indicate that Fury has an implied probability of 75.2% to win the fight. KSI is the underdog with his odds of 3.50 indicating an implied probability of 28.6% that KSI pulls off the upset. The extra 3.8% + the potential of a draw is the vig.
Betway also method of victory, round betting, knockdown props, fight distance props, and more. Click the fighters names on the Boxing page of the Betway Sportsbook to see the full list of betting lines. Here are the method of victory odds (taken on October 13th):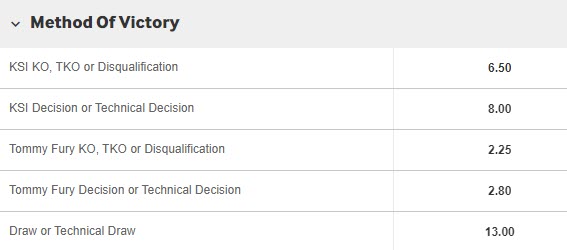 Bet On KSI vs Fury in Canada – 3 Step Guide
Follow this three step tutorial to bet on the KSI vs Tommy Fury fight from anywhere in Canada.
Click the above link and select 'Join Now' on the landing page. Complete the sign up form to open your Betway account.
Step 2. Deposit
After logging into your account click on the 'Bank' button. Choose your preferred deposit method, enter your deposit amount, and complete the instructions to fund your account.
Betway accepts Interac, Visa, MasterCard, InstaDebit, ApplePay, MuchBetter, Bank Transfer, and paysafecard deposits.
Step 3. Place Your Bets
It's time to place your wagers.
Click 'Sports' from the top menu bar and select 'Boxing' from the sports menu.
Click on (KSI – Tommy Fury) to see the full list of betting lines for the fight.
Select the odds of the bet you want to place to add it to your Bet Slip.
Enter your Stake amount and click 'Place Bets' to make your wager.
Ready to get started? Click here to visit Betway.com.